CASN thanks you for a wonderful 2022 Council meeting!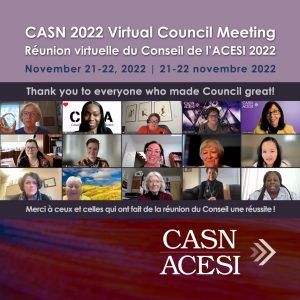 CASN held its 2022 Virtual Council Meeting from November 21-22. The event was chaired by CASN President, Linda Patrick, and Executive Director, Cynthia Baker.
We were honoured by an opening song and blessing from Grandmother Irene Compton of the Minwaashin Lodge. We heard important updates on the Association's operations, strategic initiatives, finances, and accreditation programs.
We were privileged to host a variety of presenters and speakers who promoted important nursing education topics, which inspired meaningful discussions and reflection from participants from across the country and beyond.
During the CASN Awards ceremony, we honoured esteemed colleagues for their contributions to nursing education.
The Council meeting concluded following the introduction of the 2022/2023 CASN Board of Directors, introduction of the Awards and Nomination Committee members and CASN Accreditation Bureau members.
CASN extends our thanks to the event sponsors, and Pat Griffin virtual silent auction donors and participants who helped raise over $850 in support of nursing education research.
Finally, we would like to thank the more than 260 attendees from across the country and beyond for joining us virtually during this critical time for nursing education, and for helping make the 2022 CASN Council a success.
For a full recap of the event, please see the summary below.
Summary of Events
---
Day 1 Summary
---
Annual General Meeting
1. Call to Order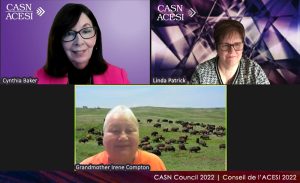 2. Words of Welcome, Announcements, and Indigenous Blessing
3. Adoption of Agenda
4. Approval of Minutes, November 2021
5. Treasurer's Report
Auditor's Report was delivered and adopted as written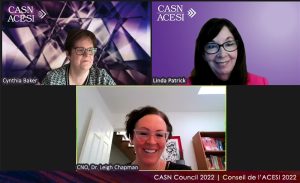 6. Awards and Nominations
Report from the Awards and Nominations Committee
Nominations for the Board of Directors and Committees
7. Appointment of the Auditor 2022/23 – Approved
8. Report from the President, Linda Patrick
9. Report from the Executive Director, Cynthia Baker
10. National Student and Faculty Survey Results, including inaugural Indigenous Student and Faculty Survey results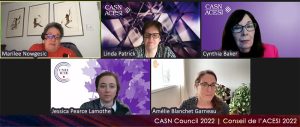 11. Cross-Country Check-Up with Canada's new Chief Nursing Officer (CNO) – Dr. Leigh Chapman
12. Breakout Rooms: The Nursing Shortage and its Impact on Nursing Education: Issues and Solutions
13. Closing Remarks
Winners:
Nursing Education Excellence (Tenured) Award: Tracey L. Clancy
Nursing Education Excellence (Non-tenured) Award: Laura A. Killam
Nursing Research Excellence Award: Michael McGillion
Academic Administrative Excellence Award: Joanna Pierazzo
Wendy McBride Award for Accreditation Reviewer Excellence: Linda Ferguson
Ethel Johns Award: Margaret Edwards
15. Pat Griffin Research Grant Recipients
Recipients
Sandra Goldsworthy
Kara Sealock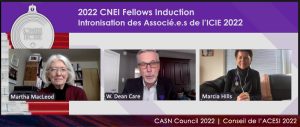 16. CNEI Fellows Induction
Fellows Inducted
Martha MacLeod
Dean Care
Marcia Hills
---
Day 2 Summary
---
Graduate Studies Forum
Theme: Promoting Equity, Diversity and Inclusion in Master's and Doctoral Nursing Education
17. Welcoming Remarks – Nancy Carter
18.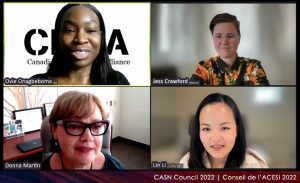 Topic 1: Graduate students' experiences with EDI issues
Moderator: Donna Martin
Presenters:
Lin Li
Jess Crawford
Ovie Onagbeboma
19. Topic 2: Faculty insights into EDI issues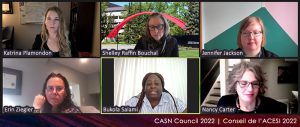 Moderator: Shelley Raffin Bouchal
Speakers:
Erin Ziegler
Bukola Salami
Jennifer Jackson
Katrina Plamondon
Undergraduate Forum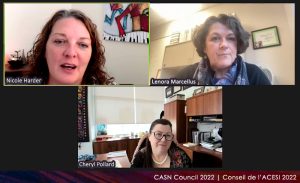 Theme: Rethinking Clinical Practice Models
20. Welcoming Remarks – Cheryl Pollard
21. Topic 1: Competency Models
Moderator: Cheryl Pollard
Speakers:
Lenora Marcellus
Nicole Harder
22. Topic 2: Principles of teaching, evaluation, and supervision
Moderator: Cheryl Pollard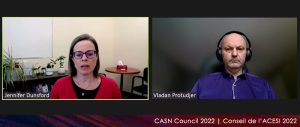 23. Breakout Rooms: Teaching, evaluation, and supervision
24. Facilitator reports on key principles identified
25. Topic 3: Competency-based clinical education as an alternative to time-based models
Moderator: Cheryl Pollard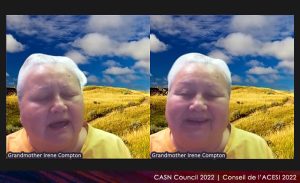 Speakers:
Jennifer Dunsford
Vladan Protudjer
26. Indigenous Closing by Grandmother Irene Compton
27. Announcement of Elections Results
28. Introduction the new Board of Directors/Committee members
29.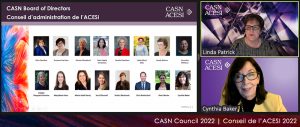 Closing Remarks
---
We hope to you see you at CASN's 2023 Council Meeting!