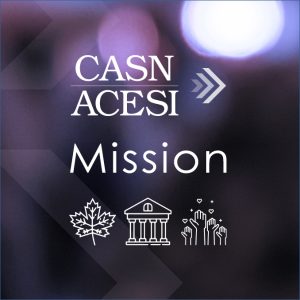 CASN/ACESI  (Canadian Association of Schools of Nursing/Association canadienne des écoles de sciences infirmières) is the national voice for nursing education, research, and scholarship and represents baccalaureate and graduate nursing programs in Canada.
The objectives of CASN/ACESI are:
To lead nursing education and nursing scholarship in the interest of healthier Canadians.
CASN/ACESI:
Speaks for Canadian nursing education and scholarship
Establishes and promotes national standards of excellence for nursing education
Promotes the advancement of nursing knowledge
Facilitates the integration of theory, research and practice
Contributes to public policy
Provides a national forum for issues in nursing education and research
CASN/ACESI is a bilingual organization.
CASN/ACESI is . . .
a voluntary association
representative of all universities and colleges which offer part or all of an undergraduate or graduate degree in nursing
the official accrediting agency for university nursing programs in Canada
a member of the Association of Accrediting Agencies of Canada (AAAC)
a member of the Canadian Consortium for Research and the Network for the Advancement of Health Services Research
associated with the Association of Universities and Colleges of Canada (AUCC)
a member of national and international networks for discussion of issues in higher education and nursing
---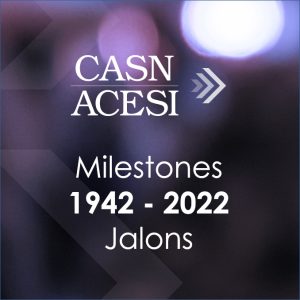 Founding Story
The Canadian Association of Schools of Nursing (CASN)'s mission is, and has always been, to promote high-quality nursing education in Canada, and to advance nursing knowledge in the interest of healthier Canadians. That mission was the vision of the small band of university nurse educators who met for 3 days at the Windsor Hotel in Montreal in June of 1942 to "take counsel" with one another. They went home having formed the Provisional Council of University Schools and Departments of Nursing (PCUSDN), which would become the Canadian Association of Schools of Nursing, as we know it today. Thanks to the vision and passion of the 11 founding schools of CASN, the association has grown to represent 95 schools, and continues to push forward the mandate they set – to advance nursing knowledge and nursing education in the interest of healthier Canadians. Learn more about CASN's founding story on Our History page.
---
The Canadian Association of Schools of Nursing respectfully acknowledges that its national office is located on the traditional unceded territory of the Algonquin People.
More information about CASN/ACESI is available by contacting our national office :
Canadian Association of Schools of Nursing
Association canadienne des écoles de sciences infirmières
1145 Hunt Club Rd., Suite 450
Ottawa, Ontario, K1V 0Y3
Tel: (613) 235-3150 Fax: (613) 235-4476
E-mail: inquire@casn.ca