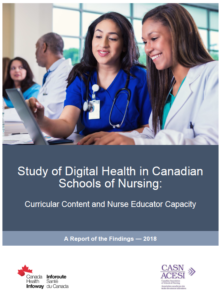 ABSTRACT

Canada's health sector is increasingly relying on the adoption and successful use of information and communication technologies (ICTs) in all care settings. Therefore, care providers, such as registered nurses, must possess the required knowledge and skills to effectively and safely utilize these tools. As the largest group of care providers in Canada, development of digital health competencies among practicing and future registered nurses is of the utmost priority. These core competencies are not isolated skill sets rather they are essential to the provision of safe, quality patient care in today's technology intensive clinical settings. To date, the integration of digital health/informatics content exists in some, but not all undergraduate nursing curricula within schools of nursing across Canada. Prior to this study, the extent to which undergraduate and graduate nursing curricula include digital health knowledge and skills was largely unknown.
The purposes of this study were to (1) describe the current state of integration of digital health content in nursing education and curricula as self-reported by Canadian nurse administrators and educators, (2) understand needs of nurse educators in promoting their capacity and future development of digital health integration, (3) identify teaching and learning exemplars of digital health integration in nursing curricula, and (4) identify recommendations for advancing the development of informatics and digital health in nursing education. A mixed methods approach was used to answer the research questions including: a survey of nursing school administrators (n=35) and nurse educators (n=360), ten telephone interviews, and one focus group meeting. Findings highlight the need for additional digital health/informatics awareness and education among both educators and administrators in responding to shifting core nursing competencies. Further there appears to be a disconnect between the views of school of nursing administrators and nurse educators as their perceptions vary in respect to educator capacity and the extent of digital health content integration.
To this end, recommendations are linked to a need for ongoing educator capacity building, a call for improved administrative supports and concrete strategies to guide future digital health curriculum integration within Canadian schools of nursing.