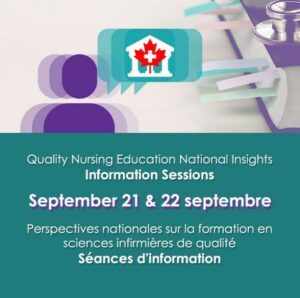 English Information Session – Wednesday, September 21, 2022 – 11am-12pm ET 
French Information Session – Thursday, September 22, 2022 – 11am-12pm ET 
---
English Information Session
Date: Wednesday, September 21, 2022
Time: 11:00 am to 12:00 pm EST (Ontario/Quebec) 
Language: Cette séance d'information sera présentée en anglais.
Cliquez ici pour des renseignements sur la séance d'information en français, qui aura lieu le 22 septembre 2022
---
Quality National Nursing Insights
Description:
This information session will highlight the content of CASN's Quality Nursing Education National Insights Portal (the "Portal"). Following a two-year battle with a global pandemic that seriously challenged Canada's already complex health care system, schools of nursing are fighting to sustain high quality nursing education in the face of multiple challenges on all fronts. Through the Portal, CASN will bring the issues that schools of nursing are facing to the public's attention and provide our leaders with solutions to support nursing education in rebuilding a sustainable nursing workforce in Canada. Our speakers are highly respected nurse educators who will present the insights along with related anecdotes from their local context and across Canada. The session will include interactive opportunities for audience input and questions.
Quality Nursing Education National Insights to be highlighted during the session include:
Critical Nursing Shortage
Increased Provincial/Territorial Funding for Seats, Sites, Bridging Programs for Practical Nurses
Covid-19, In-Person Classes, Labs, and Clinical Placements
Need for Government Collaboration and Investment
Target Audience:
General public, representatives of the government, nursing faculty, and educators from other health professions interested in understanding the current issues, opportunities, and key messages from Canadian nursing schools, and strengthening alliances through communication, cooperation, and collaboration on strategies to ensure quality nursing education and rejuvenate the health care workforce in Canada.
Registration fee: Free
Registration deadline: Sunday, September 18, 2022
---
Speakers and bios:
Alice Gaudine, PhD, RN, FCAN – CASN President-Elect
Professor, Faculty of Nursing, Memorial University of Newfoundland
Email: agaudine@mun.ca
Dr. Alice Gaudine is a Professor at Memorial University of Newfoundland's Faculty of Nursing.  Alice has served on CASN's Board of Directors and numerous CASN committees since 2015 and is currently the board's President Elect.
Alice joined Memorial's Faculty of Nursing in 1997 and since then has taught courses in different areas of the undergraduate and graduate programs, including mental health, community mental health, therapeutic communication, leadership, and program development.  She was Dean from September 2013 to August 2022 during which period there were new initiatives, including a concept-based undergraduate curriculum and the first cohort of MN-NP and PhD in nursing students.  However, the initiatives she found the most challenging were leading the programs, faculty, staff and students during the pandemic and responding to the province's request for three satellite sites to open and offer the undergraduate nursing program in less than a year's time.
Alice's research interests are in the area of nursing leadership, and the ethical conflicts of nurses and other health professionals. She has published in a number of journals on topics such as ethical conflicts of nurses and nurse managers, and on issues related to nurses' work life, absenteeism and turnover.
You can stay in touch with Dr. Gaudine through her social media pages on twitter @AGaudine and Instagram @alicegaudine.
Kirsten Woodend,  RN, BScN, MSc, PhD – CASN Treasurer
Associate Professor, Trent / Fleming School of Nursing
Email: kirstenwoodend@trentu.ca

Dr. Kirsten Woodend is an Associate Professor at the Trent University.
Kirsten has occupied numerous leadership positions including 10 years as the Dean of the Trent/Fleming School of Nursing, Director & Associate Dean of Nursing (Ottawa University), Director of Research (CPHA), Clinical Scientist, Nursing (UOHI) and Director of an epidemiology department in a public health unit.
Kirsten has received more than 10 million dollars in grant funding, as primary or co-applicant, over the past 10 years and has authored or co-authored 61 peer reviewed articles and 169 peer reviewed presentations in addition to numerous non-peer reviewed articles and invited presentations.
She is committed to both her academic and local community, serving on the board of the Canadian Association of Schools of Nursing (President 2014-16); working to address the peer support needs of amputees regionally and nationally; member of the Board of the Alliance for Healthier communities and chair of the board of the local nurse-practitioner-led clinic.
---
Contact Information:
For more information or if you have questions, please contact Roxanne Nizio, Events Coordinator, at rnizio@casn.ca.