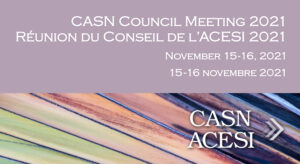 Dates: Monday, November 15 and Tuesday, November 16, 2021
Location: The Zoom link will be provided via email to registered participants a few days before the meeting.
Start Time: 11:00 a.m. EST (Ontario/Quebec time) both days
Registration Fee: $40.00 up to and including Friday, October 15, 2021/ $55.00 after Friday, October 15, 2021
Registration Information:
Registration deadline: Wednesday, November 10, 2021
Dre Pat L. Griffin Fund Virtual Silent Auction
Help support the Dre Pat L. Griffin Fund at this year's Council meeting by participating in CASN's 2021 virtual silent auction. This fund supports research in nursing education. Start bidding as early as Monday, November 8, 2021. View available items in advance!
Sponsor Information:
If your organization would like to be a sponsor of the Council meeting, please review the Sponsor Package and submit the registration form provided in the package by Friday, October 15, 2021.
Confirmed Sponsors:
https://spectrum-nasco.ca/healthcare
Company Representative:
Stacey Haywood, Healthcare Sales Director- Canada
Emial: shaywood@spectrumed.com
800-668-0600 ext. 4918
905-954-4918
Cell: 905-717-0360

https://www.laerdal.com/ca/
Company Representative:
Bruce Karatzoglou
Manager, Educational & Technical Services Canada
Laerdal Medical- Canada
Email: bruce.karatzoglou@laerdal.com
1-888-LAERDAL (523-7325)

https://limbsandthings.com/us
Company Representatives:
Hilman K.F. Yee
Regional Account Manager, Eastern Canada (ON, QC, NB, NS, PE, NL)
Email: hilman.yee@limbsandthings.com
Mobile: (416) 788-9774
Bailey Ingolia
Regional Account Manager, Central Canada (AB, SK, MB)
Email: bailey.ingolia@limbsandthings.com
Mobile: (912) 224-2253
       Dan Huffman
Regional Account Manager, Western Canada (BC, YT)
Email: dan.huffman@limbsandthings.com
Mobile: (912) 210-8071

www.sentinelu.com
Company Representatives:
Natalie Nixon, Vice President of Sales,
Sentinel U
Email: natalie.nixon@sentinelu.com,
303.223.4771
Brian Gravel, Executive Director, Sales, Sentinel U
Email: brian.gravel@sentinelu.com
303.557.0036

Innov2Learn boutique
Innov2Learn demo sessions
Company Representatives:
Mike Boutin, Founder & CEO, Innov2Learn
Email: mike@i2L.ca
514-544-0479
Katrine Mangin, Simulation Product Specialist, Innov2Learn
Email: katrine@i2L.ca
514-544-0479
Special thank you to the Dr. Pat L. Griffin silent auction donors:
Contact Information:
For more information or if you have questions, please contact Roxanne Nizio, Events Coordinator, at rnizio@casn.ca.