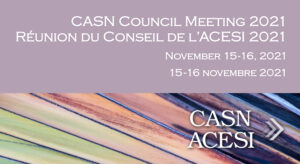 Dates: Monday, November 15 and Tuesday, November 16, 2021
Location: Virtually via Zoom
Start Time: 11:00 a.m. EST (Ontario/Quebec time) both days
Registration Fee: $40.00 up to and including Friday, October 15, 2021/ $55.00 after Friday, October 15, 2021
Registration Information:
Preliminary Program Overview:
Sunday, November 14, 2021 (all day):
CASN Board of Directors Meetings (board members only)
Sunday, November 14, 2021, 6:30-7:30 p.m. EST (Ontario/Quebec time):
New Deans/Directors/Chairs Information Session (for those who have not attended a CASN Council meeting in their new role)
Monday, November 15, 2021:
Annual General Meeting
Online Elections (voting members only)
Session: Addressing anti-Indigenous racism in health care and nursing education
Awards Recognition Event
Tuesday, November 16, 2021:
Graduate Studies Forum

Theme: Promoting graduate studies in nursing

Undergraduate Forum

Theme: Preparing undergraduate students for the post-pandemic world

Council Wrap-up

Elections Results
Introduction of new Board of Directors/Committee members
Thank you to outgoing Board of Directors/Committee members
Sponsor Information:
If your organization would like to be a sponsor of the Council meeting, please review the Sponsor Package and submit the registration form provided in the package by Friday, October 15, 2021.
Confirmed Sponsors:
https://spectrum-nasco.ca/healthcare
Company Representative:
Stacey Haywood, Healthcare Sales Director- Canada
shaywood@spectrumed.com
800-668-0600 ext. 4918
905-954-4918
Cell: 905-717-0360
https://www.laerdal.com/ca/
Company Representative:
Bruce Karatzoglou
Manager, Educational & Technical Services Canada
Laerdal Medical- Canada
bruce.karatzoglou@laerdal.com
1-888-LAERDAL (523-7325)
https://limbsandthings.com/us
Company Representatives:
Hilman K.F. Yee
Regional Account Manager, Eastern Canada (ON, QC, NB, NS, PE, NL)
Email: hilman.yee@limbsandthings.com
Mobile: (416) 788-9774
Bailey Ingolia
Regional Account Manager, Central Canada (AB, SK, MB)
Email: bailey.ingolia@limbsandthings.com
Mobile: (912) 224-2253
                                                                          Dan Huffman
                                                                          Regional Account Manager, Western Canada (BC, YT)
Email: dan.huffman@limbsandthings.com
Mobile: (912) 210-8071

https://nursing.uclagary.ca/graduate
Contact Information:
For more information or if you have questions, please contact Roxanne Nizio, Events Coordinator, at rnizio@casn.ca.