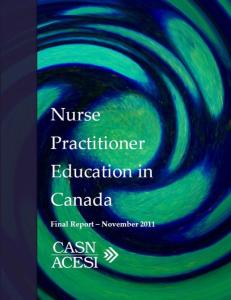 During discussions at the 2010 CASN Graduate Studies and Nurse Practitioner (NP) Educators' Forum in November of 2010 in Gatineau, Quebec, participants identified a need for more data on current NP programs in Canada to inform the development of a national vision on Nurse Practitioner education. To this end, CASN conducted a survey on current practices and program delivery modalities among the 27 Nurse Practitioner programs across the country.
The objectives in carrying out this survey included:
Developing a current inventory of educational programs for Nurse Practitioners in Canada; Gaining more information on the content of Nurse Practitioner programs in Canada; Informing the discussion at the CASN NP Forum, scheduled for September 2011 and the CASN Graduate  Studies and NP Educators' Forum in November 2011; and, Informing decisions related to National Consensus Based Educational Guidelines for Nurse Practitioners.
The CASN Nurse Practitioner Forum Environmental Scan was sent electronically to each of the Schools of Nursing offering a NP program (Appendix A). Of the 27 programs, 20 programs had responded as of September 10, 2011. This represents a response rate of 74.1%.