Dr. Pat L. Griffin Fund of CASN
The Dr. Pat L. Griffin Fund (PGF) of CASN was created to continue to advance the leadership contributions Dr. Pat Griffin made to research and scholarship in nursing education.
Why Donate
Implementing best practices in nursing education is critical if nurses are to provide optimum nursing care. This fund supports research in nursing education that produces the evidence needed regarding best practice. It supports the annual Pat Griffin Nursing Education Research Grants and the publication of the QANE-AFI nursing education research journal which publishes the results of research in nursing education.
Donor Recognition
As a donor supporter, you will be given the opportunity to showcase your support and encourage others to support PGF on our virtual PGF Donor Wall, where CASN recognizes organizations and individuals that have generously given $500-$1,000 or more since 2007. 
Spread the Word
CASN will update the PGF Donor Wall annually and inform our members and followers of excellent support shown by our donor supporters.  You can help spread the word as well that:
The @CASN43 PGF Donor Wall recognizes those who are supporting research in nursing education. Click to Tweet
---


PGF Donor Wall – Thanking those who support PGF and research in nursing education!
Organization Donors ($1000+)
Organization Donors ($500-$999)
Individual Donors ($1000+)
Individual Donors ($500-$999)
| | |
| --- | --- |
| Anonymous Donor | Anonymous Donor |
| Anonymous Donor | Anonymous Donor |
---
About Dr. Pat Griffin

Pat Griffin, RN PhD. was Executive Director of CASN from 2005 to 2007 until her untimely death on May 6, 2007, after a brave battle with cancer.
Pat came to CASN with over 35 years of varied clinical, administrative, research, and policy experience. She served as Senior Nursing Policy Consultant at the Office of Nursing Policy, Health Policy Branch of Health Canada. She held many positions at the Children's Hospital of Eastern Ontario. Dr. Griffin was also a Certified Health Executive with the Canadian College of Health Service Executives.
Pat was a visionary advocate for Canadian research on nursing education. During her short period as CASN's Executive Director, she identified an urgent need to increase research on nursing education in Canada and targeted this as a key priority for CASN to pursue.
---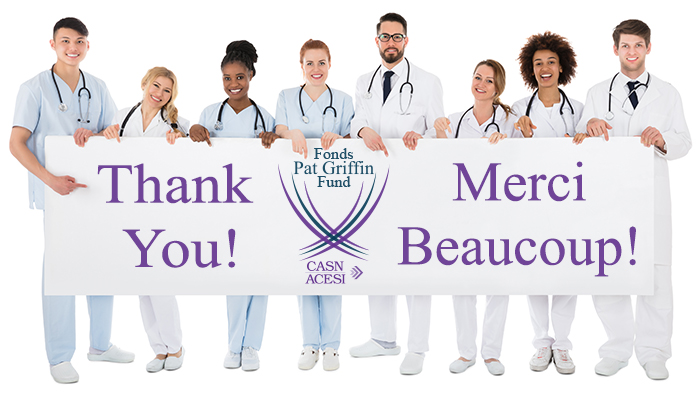 We are profoundly grateful for this dedicated support and the contributions of those Dr. Pat L. Griffin Fund donors who choose to remain anonymous.