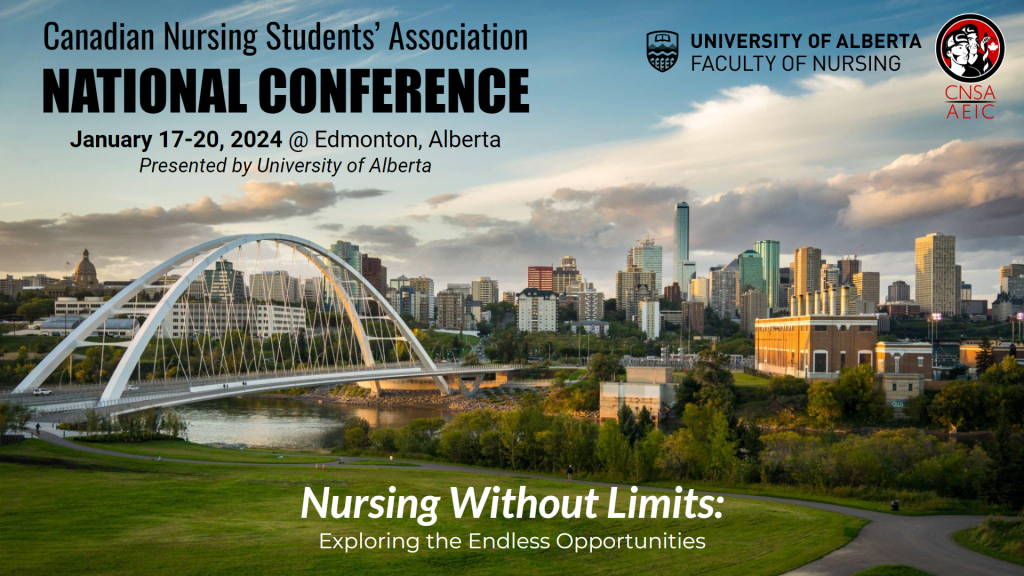 The Canadian Nursing Students' Association is excited to announce our upcoming National Conference will be taking place in-person in Edmonton, Alberta at the Sandman Signature Edmonton Downtown Hotel from Wednesday January 17th to Saturday January 20th, 2024!
WHAT IS THE CNSA NATIONAL CONFERENCE
The National Conference is the CNSA's most anticipated annual event, which brings together nursing students from all across Canada to advance their nursing knowledge and leadership skills by participating in various educational speaker sessions and interactive workshops!
The theme of the 2024 National Conference is "Nursing Without Limits: Exploring the Endless Opportunities." We will be showcasing nurses who practice in a wide range of specialties at the bedside, as well as, nurses who work outside clinical settings in the areas of research, education, policymaking, and more!
HOW TO ATTEND THE 2024 NATIONAL CONFERENCE
REGISTRATION
The early-bird ticket price to register for the 2024 CNSA National Conference is set at $150.00 per student. This cost will cover snacks, coffee, and lunches throughout the duration of the conference, as well as a banquet dinner on the final day of the conference! To get tickets and register for the conference, please visit: https://site.pheedloop.com/event/cnsa/home