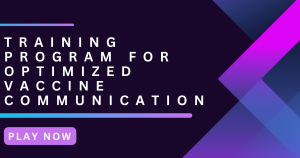 In the last three years, the SARS-COV2 virus has emerged as a worldwide public health threat with devastating psychological, economic, social and health impacts to Canadians (Canada, 2020). While unpredictable in nature, it is expected that in our future, pandemics will occur more frequently, spread more rapidly, with increased morbidity and mortality, and have massive economic consequences (Daszak et al., 2020).
In the era of rapid developments in vaccines and the emergence of mRNA and viral vector vaccines as novel technological advancements, there is a renewed sense of urgency to develop an approach to alleviate and address apprehension towards vaccinations (Dror et al., 2020). Healthcare providers (HCPs) are consistently cited by the Canadian public as the most trusted source of vaccine information (MacDougall et al., 2015) and their recommendations continue to hold an important positive influence in the vaccination decision-making process, consistent with existing literature globally (Omer et al., 2009; Smith et al., 2017; Wiley et al., 2013). It has been found that overall knowledge about vaccine efficacy and safety and personal attitude towards receiving vaccines were associated with a HCP's likelihood of recommending the vaccine to patients (Paterson et al., 2016). HCPs are an important source of information regarding evidence-based solutions for managing vaccination pain and needle fear (Taddio et al., 2015).
Furthermore, preparedness has also been identified as an important factor in a HCP's willingness to engage in difficult conversations, especially with those who demonstrate reluctance or hesitancy towards vaccination (Paterson et al., 2016). Through discussion with HCP trainees, there was a gap in knowledge and education regarding how to effectively communicate about vaccines and vaccine hesitancy. Therefore, in response to this need, the University of Calgary and the University of Waterloo, in consultation with other stakeholders developed three virtual simulation games where healthcare providers and healthcare trainees can practice their communication skills and learn how to respond to common misconceptions and concerns through interactive scenarios, while increasing the competence and confidence of HCP's in vaccine communication, advocacy, delivery, and promotion. Those who complete the virtual simulation games will be able to practice using open-ended questions, use reflective listening, motivational interviewing, and other techniques to help patients explore their reasons for vaccine hesitancy and ultimately make an informed decision.
One of the games is designed to specifically support healthcare providers to process their own emotions following difficult conversations. It is natural—even expected—for those working with people to experience a variety of emotions. The fast pace of health care often leads us to compartmentalize: to put our reactions aside and manage them later. The strain brought on by the COVID-19 pandemic is exacerbating this challenge, with health care workers in all disciplines and health institutions facing unprecedented emotional demands. The impact of ongoing stress and distress leads to compassion fatigue, increases rates of burnout, and can result in a desire to leave the field.
All three virtual simulation games were developed by healthcare professionals with expertise in vaccine hesitancy and communication. They are designed to help providers feel more confident and prepared to address vaccine hesitancy with their patients. If you're a healthcare provider looking to improve your communication skills and effectively address vaccine hesitancy, be sure to check out these three virtual simulation games. You can access these games at https://can-sim.ca/vaccine-hesitancy/.