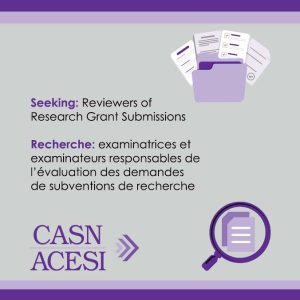 CASN is developing a roster of reviewers who will assess submissions for research grants administered by CASN.  Attached is a document called, "Information for Reviewers of Research Grant Submissions" to be completed by anyone who is interested in becoming a reviewer. Please consider becoming a reviewer yourself and distribute to anyone else you know who might be interested.
CASN offers research grants for researchers from members schools, and we are developing a roster of volunteer reviewers to assess the submissions. The following information can help you decide if you would like to contribute your expertise in advancing nursing research in Canada:
Reviewers must have secured funding external to their college/university as Principal
Investigators (PIs), and they must have conducted several research studies themselves, so they have a solid understanding of the research grant funding and study execution processes.
CASN uses the evaluation criteria from the Canadian Institute for Health Research, except that two criteria have been changed to align with the focus of research administered by CASN.
Submissions have a 10 pages limit, excluding required attachments.
Reviewers can expect three (3) to five (5) reviews annually, and they are usually done during the winter semester.
Reviewers normally have at least four (4) to six (6) weeks to complete and submit their reviews to CASN.
If you would like to be added to the roster of reviewers, please complete the information below and return it to Don Flaming, CASN Senior Education Coordinator, at dflaming@casn.ca. You can also contact Don if you have any questions or comments.