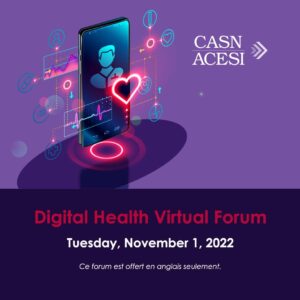 **Ce forum est offert en anglais seulement**
---
Date: Tuesday, November 1, 2022
Time:
11:00 a.m. to 4:00 p.m. EST (Ontario/Quebec)
8:00 a.m. to 1:00 p.m. PST (Vancouver)
10:00 a.m. to 3:00 p.m. CST (Winnipeg)
12:00 p.m. to 5:00 p.m. AST (Halifax)
Location: Virtually via Zoom. The Zoom link will be provided via email to registered participants a few days before the forum date.
This event will be recorded and made available to registered participants after the event.
---
Theme:
Digital Health in Canadian Nursing: Opportunities and Challenges
Description:
Digital Health is having an increasingly greater impact on the practice of Canadian nurses. Nurses in clinical practice and nurse educators have encountered challenges and new opportunities in the digitalization of health. To respond to these challenges and prepare for the future, nursing must transform into a digitally enabled profession that responds to the increasing complexity of the healthcare ecosystem.
This Forum will examine the following:
Digital Health and Nursing Practice:  The way that digital health has shaped and continues to shape the healthcare ecosystem and its impact on nurses.
Compassion and Ethics in Digital Health: The actual and potential ethical issues in the digitalization of healthcare and how nurses can maintain core values in their practice.
Digital Health and Nursing Education: Enhancing nursing capacity to lead the digital health transformation The key areas of health digitalization that nurse educators should address, and strategies for incorporating them into the nursing curriculum.
---
Target Audience: Nurse educators, nurses in practice and nursing students
Registration fee: $40
Registration deadline: Wednesday, October 26 ,2022
---
Forum – Zoom chat transcript (shared resources within)
Speakers and bios:

Topic #1: Digital Health and Nursing Practice
Sharon has been nursing for over 30 years.  She has worked in various settings including medicine, surgery, emergency and Out Post nursing before settling in Informatics for the past 15 years.  As a Clinical Lead, she works with other IT Analysts in documenting clinical workflows and establishing Essential Data Sets as Nova Scotia Health moves to incorporate one Clinical Information System across the province.
---
Dr. Gurprit K. Randhawa is the Director of eHealth & Virtual Care Innovation at First Nations Health Authority (FNHA) in Victoria, BC. In this provincial role, Gurprit is responsible for ensuring ongoing innovation in FNHA's eHealth and virtual primary care services, in alignment with the priorities of First Nations.
Prior to this, Gurprit was the Lead (Senior Manager) for Learning Strategy and Design at Island Health, as well as the Manager of Clinical Improvements & Informatics at Island Health.
Gurprit has a B.Sc. in Health Information Science, M.Sc. in Health Informatics, and Ph.D. in Health Informatics from the University of Victoria (UVic), as well as an Executive MBA specialized in Health & Safety Leadership. Gurprit is a third generation educator, and holds a graduate certificate in Learning and Teaching in Higher Education (LATHE). She is a Health Informatics Instructor at McMaster University and Professor of Health Informatics at the Sault College of Applied Arts & Technology. She is an Adjunct Assistant Professor in the UVic School of Health Information Science, as well. Her research work focuses on electronic medical record adoption and use, change management, the scholarship of teaching and learning, knowledge translation and mobilization, and quality improvement.
Gurprit has received national and international recognition for her work in digital health, including the COACH (Digital Health Canada) Founding President's Award (2010) and the Steven Huesing Award and Scholarship (2016) for reflecting the spirit, dedication, and innovation that the Founding President brought to the field of Health Informatics.
---
Tracy Shaben, RN, MN is Manager of Clinical Informatics, Alberta Health Services, University of Alberta Hospitals campus, Edmonton, Alberta. From the mid-90s, she has been leading a variety of clinical information systems software implementations in acute care and ambulatory settings across BC and Alberta. Most recently, she has been part of the large team implementing the Alberta provincial clinical transformation and clinical information system (CIS) project – Connect Care (UAH campus launched November 2019).  Her team focus is on stabilization and optimization of Connect Care workflows and process improvements to aide front line staff adoption and usability of CIS system.
Tracy has been involved in national health informatics roles & initiatives with Canadian Nursing Informatics Association (CNIA) as Treasurer (2009-2020); Canadian Association of Schools of Nursing (CASN) as taskforce member for development of Nursing Informatics: Entry to Practice Competencies for Registered Nurses & Nursing Informatics Teaching Toolkit; as well she has been actively involved in Canada Health Infoway's Nursing initiatives.
Tracy is the founding & current President of the Nursing Informatics Association of Alberta, a past specialty practice group of the College and Association of Registered Nurses of Alberta (CARNA) and a former member of CARNA's Education committee supporting development of Nursing Informatics learning modules for practicing RNs.
---
Lori Campbell, RN, MScN is a nurse with 17 years of experience, Lori brings a diversity of experiences to her work.  Working as a clinical nurse in inpatient and critical care areas spurred her interest in quality and practice improvement in the healthcare system.  That interest led to starting work with the CST Project in 2014, a joint venture between three BC health organizations.  Since then, Lori has completed a MSN degree with a focus on nursing informatics and standardized terminologies.  Lori currently works as a Senior Manager within the CST Clinical Informatics team.
---
---
Topic #2: Compassion and Ethics in Digital Health
Gillian Lemermeyer, PhD, RN is an Assistant Professor in the Faculty of Nursing at the University of Alberta, Canada. Gillian's current research explores the embodied ethics of healthcare practices, employing a phenomenological method to investigate the nurse's touch in the neonatal intensive care unit. Past research projects have explored the experience of families in the NICU and during the process of considering organ donation. Her nursing background is in neonatal intensive care, family bereavement, and professional regulation. Her teaching practice is in healthcare ethics with undergraduate and graduate students.
The central notion of my research program is that the way we are with each other matters. This idea is grounded in an ethics of equity and inclusion in a changing world. The questions I explore are situated in the relational encounters between nurses and other healthcare practitioners with the people in their care. I focus on themes of relational ethics, the nurse's touch, and the ethics of artificial intelligence in healthcare.
---
Dr. Gillian Strudwick is the Chief Clinical Informatics Officer, Scientist and Registered Nurse at the Centre for Addiction and Mental Health in Toronto, Ontario. She also holds an appointment at the institute of health policy, management and evaluation at the University of Toronto. Dr. Strudwick serves as a board member for the Village Family Health Team and AMS Healthcare.
---
---
Topic #3: Digital Health and Nursing Education: Enhancing Nursing Capacity to Lead the Digital Health Transformation
Dr. Kleib is an Associate Professor in the Faculty of Nursing at the University of Alberta. Her program of research aims to enhance the academic preparedness of the Canadian nursing workforce and their capabilities to effectively integrate existing and emerging digital health technology in their practice roles to deliver high quality nursing care and achieve better outcomes for patients, providers, and health systems.
She serves as a treasurer for the Canadian Nursing Informatics Association and has participated in several projects led by the Canadian Association of Schools of Nursing and Canada Health Infoway, such as the Digital Health Faculty Peer Leader Network to advance nursing informatics capacity in Canada. She also led work to establish the Nursing Informatics Association of Alberta and developed educational resources to support informatics development for nursing students and nurses in Alberta.
As an expert and a leader in nursing education research with over 30 years of professional nursing experience, her diverse experiences in educational and healthcare settings locally and internationally have provided unique learning opportunities for her students. She teaches graduate and undergraduate level courses on digital health, advanced nursing leadership, health technology and innovation, and mentors several graduate and honors students in projects related to nursing informatics and digital health. In 2017, the Canadian Nurses Association recognized Dr. Kleib as one of 150 nurses in Canada who have contributed significantly to shaping education and practice for nurses in her area of specialization.
---
Glynda teaches in the BSN program at the British Columbia Institute of Technology (BCIT) in Vancouver, British Columbia, and is Program Lead for the development of an Advanced Certificate in Digital Health at BCIT. She completed an MSN at the University of British Columbia with a focus on education and health informatics, and a BSN at the University of Cape Town in South Africa.
Glynda's interests include digital health education, the impact of health information technologies on clinical judgment and decision making at the point of care, and the potential for health information technologies to improve health outcomes across communities.
Glynda co-authored the Open Educational Resources Clinical Procedures for Safer Patient Care and Health Case Studies, and the Digital Health Nursing Informatics E-Resource with the Canadian Association of Schools of Nursing. Glynda is currently co-leading a provincial initiative to develop an Interprofessional Educational Electronic Health Record for teaching and learning in healthcare.
---
Hello! My name is Rebecca Sugars and I am a 2022 graduate of the University of Alberta Bachelor of Science in Nursing Honors Program. I am a passionate advocate of health promotion and primary healthcare and am consistently looking for ways to uphold this passion through volunteer, research, and clinical roles. My primary areas of clinical interest include adult inpatient general surgery, post-operative rehabilitation and management, and community health promotion. My primary scholarly interests include promoting active lifestyles and physical activity in Canadian populations, exploring athletic injuries and sports medicine rehabilitation, and strengthening primary healthcare through cohesive digital health efforts. I am very grateful for the opportunity to be part of this forum with CASN and look forward to the event! Please feel free to contact me if you have any questions; I can be reached via email at rsugars@ualberta.ca or by telephone at 780-903-9909.
---
Nadia Green is a Saulteaux First Nations Registered Nurse, originally from Berens River First Nation, a remote community located on the east side of Lake Winnipeg in Manitoba. She is in the second year of her PhD Program in the Faculty of Nursing at the University of Alberta with a focus on Indigenous health and digital health technologies. She earned her Bachelor of Nursing from the University of Manitoba (U of M) and her Master of Nursing from the University of Toronto (U of T). Her research interests include Indigenous health, mental health, digital health technologies, and health promotion, services, and policy. Nadia has previous research and teaching experience related to Indigenous health and nursing and draws on her knowledge translation and health informatics expertise. She is passionate about improving the health, wellbeing, and care of Indigenous People in Canada through the use of digital health technologies and nursing informatics.
---
---
Planning Committee Members and bios:
Planning Committee
Barbara Davies, BScN, RN, MHI, is a nurse with over 12 years of experience in various roles including community health, occupational health, acute care nursing, and health informatics. She currently works at InPlace Software Solutions a placement software company for academic institutions along with clinical teaching at Laurentian University for first year nursing students. Previously to this position, Barbara worked in clinical informatics at Health Sciences North gaining knowledge and expertise as an informatician. While working within this role, Barbara furthered her studies by completing a Master's in Health Informatics through The University of Waterloo. This provided great insight into health informatics beyond the clinical aspects by furthering her understanding of the technological components. Barbara has been involved in decision-making aspects since her time as an undergraduate student at Laurentian University. Barbara has always been a leader in all aspects of her career, giving way to innovative ideas to assist both bedside and education in nursing. Barbara believes health informatics is a vital component of health professionals' education which will assist in moving digital health forward. Barbara is currently involved with several associations and organizations. She is part of the executive member for RNAO interest group Ontario Nursing Informatics Group along with an executive member of CASN's Digital Health Interest group. She is actively involved as a member of CNIA and Digital Health.
---
Meagan Ryan RN, BScN, MN, CCNE is a Nurse Educator at St. Francis Xavier University in Antigonish, Nova Scotia. She facilitates learning in the clinical practice areas of medical-surgical and pediatric nursing. Meagan graduated from St. Francis Xavier University with a Bachelor of Science in Nursing in 2015. She pursued a career in rural medical-surgical and emergency nursing, that fostered a passion for teaching and learning in nursing.
She completed her Master of Nursing with a focus in teaching from Athabasca University in 2021. Since beginning in her role as a Nurse Educator in 2019, Meagan has continued to develop as an educator, earning her Canadian Certified Nurse Educator designation from CASN in 2022. Meagan's interest in digital health in nursing practice and education has developed as a result of her role as an educator and her casual work as a Registered Nurse during the COVID-19 pandemic. She has pursued this interest as a member of the CASN Digital Health interest group since 2021 and is a member of the Atlantic Canada Nursing Informatics Committee and Canadian Nursing Informatics Association.
---
Nicola PhD MSc RN has over 20 years' experience in clinical practice (ICU, community and wound care), industry and academia. Nicola is an Adjunct Professor at the University of British Columbia, Okanagan and an Honorary Tutor at Cardiff University in the UK. She has been a nurse educator for 15 years in undergraduate and graduate programs with a focus on teaching research, health literacy and community health. Nicola holds a MSc. from Cardiff University and a PhD from the University of Calgary. Her research interests include exploring the way data organizes the work of nurses and patients in a variety of settings. She is an active member of CASN's Digital Health Interest group. In her early career Nicola completed certificate programs in web design and graphics, database management and computer networking. Combining her skill and passion for technology and nursing she currently works as a freelance educator and as a health research consultant providing liaison services between start-up innovators, software developers and frontline health care. In this role Nicola has developed a particular interest in the ethics of Big Data and artificial intelligence and its implications for the future of healthcare. She has recently joined the team for BCIT's new Digital Health Advanced Certificate program.
---
Contact Information:
For more information or if you have questions, please contact Roxanne Nizio, Events Coordinator, at rnizio@casn.ca.