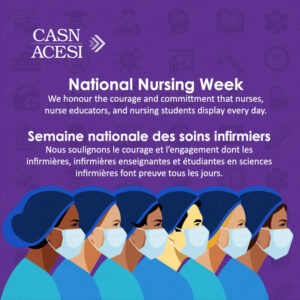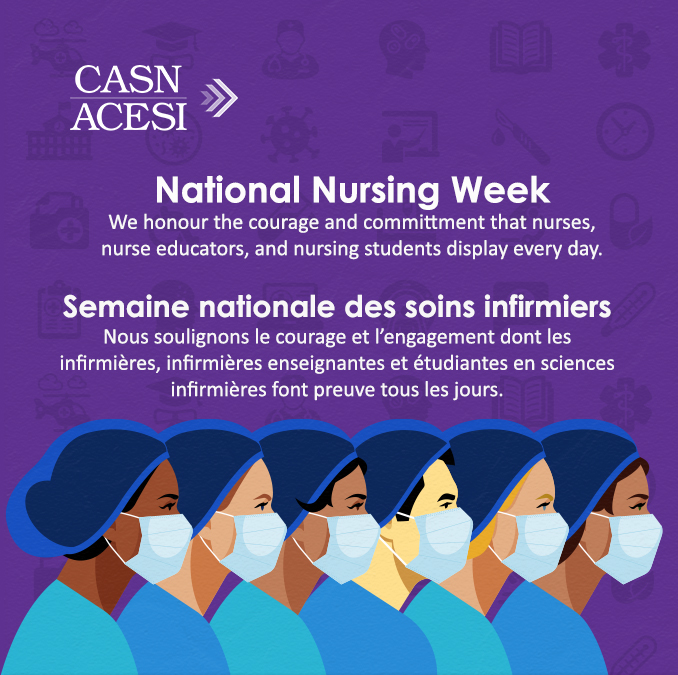 National Nursing Week is the annual celebration of the anniversary of Florence Nightingale's birth on May 12th, which is also celebrated around the world as International Nurses Day. This year, the celebration takes place from May 9-15th, and CASN is taking the opportunity to appreciate the courage and commitment that nurses, nurse educators, and nursing students display every day in the face of an increasingly complex and challenging health care profession. Thank you all for your invaluable contributions and for continuing to care for the health and well-being of our nation.
CASN has organized several events, initiatives, and resources that will allow you to join us in celebrating National Nursing Week 2022. We encourage everyone to share how they are celebrating with CASN on social media using the hashtag #NationalNursingWeek.
We hope you will all join us in honouring the selfless nurses, nurse educators, and nursing students that maintain the high quality of nursing education for which Canada is well known around the world.
Special Message from CASN Executive Director, Cynthia Baker
---
About National Nursing Week 1  [1]
The week draws attention to nurses, increasing the awareness of the public, policymakers and governments to the many contributions of nursing to the well-being of Canadians. 
In 1971, the International Council of Nurses designated May 12, the birthday of nursing pioneer Florence Nightingale, as International Nurses Day. In 1985, Canadian Nurses Association members passed a resolution to begin negotiations with the federal government to have the week containing May 12 proclaimed as National Nurses Week annually. Soon after, the federal minister of health proclaimed the second week of May as National Nurses Week. In 1993, the name was changed to National Nursing Week to emphasize the profession's accomplishments as a discipline. 
Events 
Initiatives  
Commemorate the anniversary of Florence Nightingale's birth by coming together to discuss the influence she has had on nurses and nursing education.

Send a Thank You Nurse Educators

note. Every nurse has been inspired by an educator, preceptor, mentor, or role model throughout their professional journey, and we encourage you to tell them how much you appreciate their guidance and support. 

Below you will find a Thank You Nurse Educators card in English or French that you can print and send to a Nurse Educator during Nursing Week. 

 
---
* Cards available in JPEG (English JPEG, French JPEG) or fillable PDFs (English PDF, French PDF)
On social media, we encourage you to use the hashtag

#NationalNursingWeek

when you share

celebratory stories, photos, messages, and use the hashtag

#ThankYouNurseEducators

when sharing your Thank You Nurse Educators appreciation cards.

 

#NURSESFORPEACE – Support the ICN's condemnation of the illegal invasion of Ukraine

Nurses and healthcare workers must be allowed to deliver care and humanitarian aid to the people of Ukraine, shielded from harm, threats, and violence. Join the International Council of Nurses (ICN) and partners in a call for an immediate end to all hostilities and peace for the people of Ukraine.
Resources & Messages
Contact Us 
For general inquiries, please contact inquire@casn.ca. 
Third-party information liability disclaimer
CASN is providing this page as a public service. The content and views expressed by guests are their own and their appearance on this page does not imply an endorsement or recommendation by CASN.
[1] Information in the "About National Nursing Week" section comes directly from the Canadian Nurses Association's "National Nursing Week 2022 sponsored by Johnson & Johnson" webpage: https://www.cna-aiic.ca/en/news-events/national-nursing-week. Retrieved April 22, 2022.