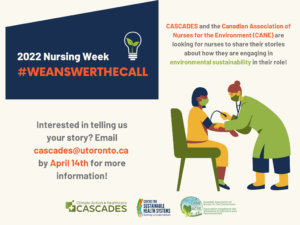 2022 National Nursing Week Initiative Details:
For the 2022 National Nursing Week we are #AnsweringTheCall. CASCADES and CANE are looking for nurses to share their stories about how they are engaging in environmental sustainability and environmental justice within their roles. Whether you work in the hospital, community, administration, education, research or in government, we want to hear from you!
Please feel free to include as much or as little detail as you'd like, and only focus on the questions that are most relevant to you and your work. We recommend that your overall story submissions are kept between 250 to 350 words (not including the questions). Please feel free to insert your answers directly under the questions you choose to reply to. Here's what we'd like to know:
What is your role and/or practice experience (e.g., practice settings, years worked as a nurse, years worked in environmental sustainability and/or environmental justice)?
What is your experience in environmental sustainability and/or environmental justice? What are some environmental sustainability projects you have led, implemented, participated in or are currently working on in your role as a nurse? These could be initiatives within the hospital or community settings, policy-based or otherwise.
How did you get started in environmental sustainability and/or environmental justice work? What inspired you?
What barriers and/or supports have you experienced when engaging and implementing in sustainability work (e.g., buy-in, organizational resources)? How did this affect your ability to implement the sustainability initiative?
How do you recommend others get involved in the type of sustainability work you are doing? Is there any advice or are there any resources you would recommend to other nurses interested in starting their own sustainable practice initiatives?
Please leave any additional comments, if you wish.
Where can others contact you, if they are interested in learning more about your work?
Please let us know if you prefer to submit your response as a recorded video, voice note or if you would like to schedule a call instead. Feel free to also include an image that relates to your story. Please note that we may make minimal edits to your response for clarity and/or to reduce the word count. Please let us know if you are interested in participating by April 14, 2022 by emailing us at cascades@utoronto.ca.
Final Story Submission Deadline: April 22, 2022, 5PM EST
During Nursing Week (May 9th to May 15th), we will share your stories on the CASCADES and CANE websites to promote your work in environmental sustainability and inspire other nurses to also #AnswerTheCall.
To read the initiative details in French, please click here.