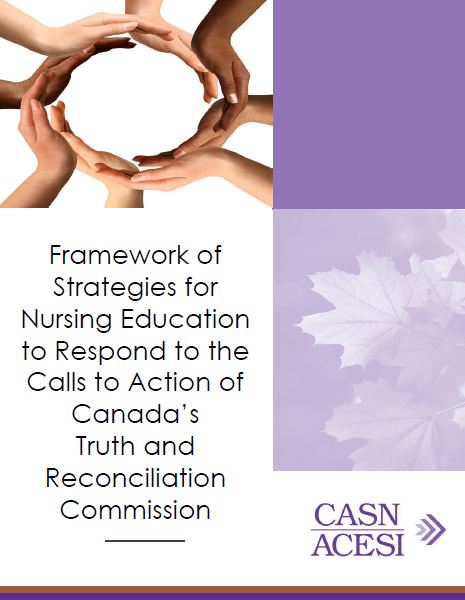 The Canadian Association of Schools of Nursing (CASN) is pleased to present its discussion paper entitled Framework of Strategies for Nursing Education to Respond to the Calls to Action of Canada's Truth and Reconciliation Commission, developed by the CASN Truth and Reconciliation Task Force in partnership with the Canadian Indigenous Nurses Association (CINA).
This purpose of this discussion paper is to provide national support for reconciliation by fostering reflection related to decolonization and Indigenization, and by offering direction to schools of nursing in responding to the TRC Calls to Action (2015). The first part of the paper provides a background context of decolonization, Indigenization, and reconciliation, followed by a review of responses to the TRC from post-secondary institutions in Canada. It concludes with a framework of strategies to address the TRC Calls to Action in nursing education.
In light of the TRC Report (2015), CASN member schools unanimously adopted a motion to respond to the Calls to Action in nursing education. A joint CASN/CINA task force was created with a mandate to "determine directions and guide CASN in acting to advance the 2015 TRC Calls to Action". This task force, chaired by Marilee Nowgesic, CINA's Chief Executive Officer, provided expertise, time, and contributions towards the development of this paper.