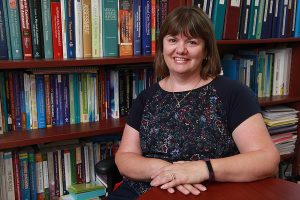 CASN is pleased to announce that the
2019 Pat Griffin Scholar Award winner is
Dr. Marian Luctkar-Flude
Dr. Marian Luctkar-Flude is a passionate nurse and educator, whose research and teaching are guided by her deep understanding of practice setting realities and shared observations of student knowledge and skill gaps in clinical settings.  An internationally recognized expert and leader in nursing education research with a focus on clinical simulation and interprofessional education, she has made substantial contributions to the literature on the science of nursing and health professionals education. Most recently, her work is focused on advancing the use of virtual simulations and virtual simulation games.
In 2013 and 2014, Dr. Luctkar-Flude was co-lead in an unprecedented collaboration of nursing faculty from across Ontario to develop an innovative simulation design method that standardized scenario development and assessment methods. Through this project, she contributed to the formation of the Ontario Simulation Alliance (OSA) (www.ontariosimalliance.ca) for nurse educators in Ontario and beyond.  Since its inception, the OSA has united nurse educators interested in developing, implementing, and conducting research to evaluate the effectiveness of clinical simulation in nursing education.  In 2015, Dr. Luctkar-Flude stepped into the position of Co-President of the OSA and carried on with the vision and mission with exceptional dedication. In 2018, she co-founded the Canadian Alliance of Nurse Educators using Simulation (CAN-Sim) (www.can-sim.ca) to provide a national forum for collaboration, sharing and mentorship in simulation education and research, and is now CAN-Sim's Co-President.
Dr. Luctkar-Flude's commitment as a mentor to other nursing educators and researchers was recognized by her 2016 International Nursing Association of Clinical Simulation and Learning (INACSL) Excellence in Research Award, the first Canadian to receive this international award. She has recently been appointment to the INACSL Board of Directors as VP of Research in recognition of her expertise and leadership, and she has served on the Editorial Board for the journal Clinical Simulation in Nursing since 2015. In 2018, she was instrumental in the development of the curriculum and certification exam for the new Certified Canadian Simulation Nurse Educator (CCSNE) Program offered by the Canadian Association of Schools of Nursing (CASN) and is among the first CCSNE designates in Canada.
Dr. Luctkar-Flude is passionate about the nursing profession. She is curious, independent, hard-working, values-driven, a skilled communicator and a trusted colleague. She modestly demonstrates how determination and hard work can improve the lives of her patients and her students. Emanating professional integrity and depth in professional practice as well as an ability to create and mobilize new knowledge, she has established credibility in the world of professional nursing, within and beyond the scope of her research program.
Dr. Luctkar-Flude will receive a $10,000 grant to promote her nursing education research through inquiry, mentorship, and dissemination.  Her contributions to research in nursing education will be addressed when she delivers the "Pat Griffin Annual Lecture" at the 2019 CASN Council meeting.
Congratulations Dr. Marian Luctkar-Flude!!