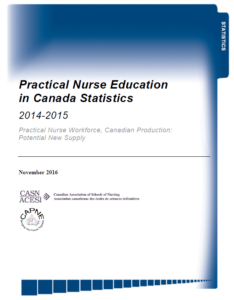 The Canadian Association of Schools of Nursing (CASN) and the Canadian Association of Practice Nurse Educators (CAPNE) are pleased to present Practical Nurse Education in Canada Statistics, 2014-2015 — Practical Nurse Workforce, Canadian Production: Potential New Supply.
This annual report supports health human resources planning in both the nursing service and nursing education sectors. It represents the fruit of a strong partnership among national and provincial/territorial bodies and effective collaborative relationships with multiple stakeholders.
The report provides data and statistical analysis of
the number of pre-licensure graduates eligible to apply for initial licensure/registration and enter the licensed practical nurse (LPN) workforce;
the composition of faculty delivering nursing education; and
faculty retention and recruitment.