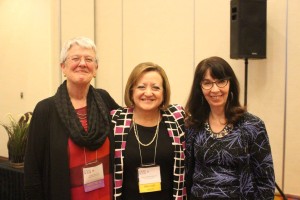 Dr Joanne Profetto-McGrath's extensive background in nursing education strengthens her contribution to the accreditation program. Dr. Profetto-McGrath has conducted eight Accreditation Reviews, both as a team member and as a Team Leader. In assuming these responsibilities, Joanne provides strong leadership; she is always well prepared for a review, and while on site, works with the team to ensure the depth of evidence required is obtained, and ensures that reviewer reports contain a comprehensive and fair response to the information provided by the school. Joanne is a role model for other reviewers and guides those new to the role.
In addition to her contribution to the CASN Accreditation Program, Dr. Profetto-McGrath's dedication to excellence in nursing education is demonstrated through her research, publications, and presentations. She was the 2013 CASN Nursing Education Pat Griffin Research Scholar, with a research program in nursing education focusing on critical thinking and knowledge utilization. Areas of expertise include Critical Thinking, Knowledge Transfer, Translation and Utilization, Leadership, Medical/Surgical Nursing, Nursing Pedagogy and Curricula. As well, she served as a member, Vice Chair and Chair of the Nurse Education Program Approval Board of the College and Association of Alberta Registered Nurses.
Dr. Profetto-McGrath brings breath of knowledge, skill, and experience to the review process and conducts reviews with fairness, openness of communication and integrity.