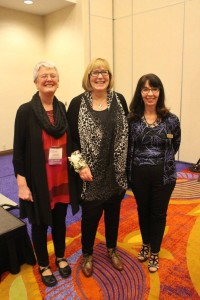 Dr. Janet Landeen has consistently demonstrated the highest level of educational scholarship in teaching, research and educational leadership.
Most notable is her leadership in the renewal of the curriculum for undergraduate nursing within the McMaster Mohawk Conestoga BScN program. Janet had the vision to creatively engage faculty, students, alumni, and community members to examine the curriculum for inclusion of best practices in teaching and nursing.  Throughout this process, Janet facilitated a process of scholarly thinking regarding nursing education among the members of her curriculum development team and through workshops for faculty.
Janet's areas of educational research have focused on the student experience and best practices in nursing education. She has led research teams in exploring clinical simulation, the meaning of consistency in problem-based learning, and evaluating differences in clinical learning outcomes following curriculum renewal. Early in her career, Janet introduced and evaluated reflection as a learning tool for students. While reflection and reflective practice are now commonplaces in nursing education, Janet was an early advocate for this important learning strategy. Most recently, Janet has led an interdisciplinary project on the meaning of being a student in joint college-university programs. All completed educational research has been jointly published thus enabling junior faculty and students, who have been mentored by Janet, to develop as educational scholars and build their teaching portfolios.
Janet's also contributes as a member of the Accreditation Board of the Canadian Association of Schools of Nursing, and as Chair of the CASN/CFMHN Mental Health and Addiction Task Force.