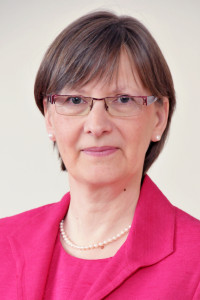 CASN is pleased to announce that the
2015 Pat Griffin Scholar Award winner is 
Dr. Jacinthe Pepin
The winner of the 2015 Pat Griffin Scholar Award is Dr. Jacinthe Pepin. Dr. Pepin is a prodigious scholar with a passion and commitment to nursing education through research and scholarship, mentorship, leadership and pedagogical innovation.  She conducts research in nursing education with a focus on the process for the development of nursing competencies, specifically in the areas of clinical leadership.
Dr. Pepin's publication record in the area of educational scholarship and research is exemplary, with the regular contributions of research and academic papers to internationally respected peer-reviewed journals and at international conferences.  Moreover, she has been actively mentoring the next generation of nursing scholars for over a decade through the creation of a doctoral course on the science of nursing education, and through the supervision of numerous graduate students at both the Master's and doctoral level.  This year she will also begin working as a post-doctoral supervisor in the field of nursing education research.
Dr. Pepin will receive a $10,000 grant to promote her nursing education research through inquiry, mentorship, and dissemination.  Dr. Pepin's contributions to research in nursing education will be addressed when she provides the "Pat Griffin Annual Lecture" at the 2015 CASN Council meeting.
Congratulations Dr. Jacinthe Pepin!!