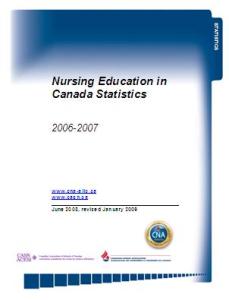 The Canadian Nurses Association (CNA), in collaboration with the Canadian Association of Schools of Nursing (CASN), is pleased to present Nursing Education in Canada Statistics, 2005-2006.
Since 1963, CNA has been collecting student and faculty data from Canadian schools offering education programs that entitle successful graduates to apply for initial licensure/registration as a registered nurse (RN) and graduate programs for RNs. CNA and CASN have collaborated to collect data from CASN member schools since 1985.
This is the first year that the data obtained from the annual National Student and Faculty Survey of Canadian Schools of Nursing (hereafter referred to as the survey) have been published in this format. In past years, the annual results were summarized in five quantitative reports posted on the CNA and CASN websites. This new publication includes the quantitative data of past years and then builds on the data, in combination with other information, to provide analysis of key findings and observations.
Data from the survey support effective health human resources planning by providing: 
• projections of the number of graduates eligible to apply for initial licensure/registration and enter the nursing workforce by a given date;
• details on the number of RNs obtaining graduate qualifications; and
• information on the composition of faculty delivering nursing education.
The survey is designed to capture the increasing variety and complexity of education programs, the proliferation of sites at which they are offered and the multiple entries into nursing.
The Canadian Institute for Health Information (CIHI) considers this survey one of three key sources of data to identify the number of nursing students entering the system.1 It is the only pan-Canadian, longitudinal survey of Canadian nursing schools.
Included in this publication are:
• a snapshot of key findings that combines survey results with data obtained from Ordre des infirmières et infirmiers du Québec (OIIQ) to offset survey under-reporting of admission and graduate data for Quebec's diploma and basic baccalaureate programs;
• results of the National Student and Faculty Survey of Canadian Schools of Nursing 2005-2006; and
• the survey methodology.
Highlights: 
The push to admit and graduate more nursing students is evident in most provinces and territories. Technology adoption, innovative program delivery methods and new approaches to learning are being embraced by educators and welcomed by students.
The results of the 2006-2007 survey indicate progress. However, the gap between the output of Canada's education institutions in 2007 and the recommended 12,000 graduates per year is still high – nearly 30%.
To achieve the level of nurse supply needed and a health-care system that is able to serve the needs of the population, it will be important to maintain this momentum by continuing to focus on new program delivery methods, the use of new technologies and on investments that increase the number of nursing seats and the supply of faculty.