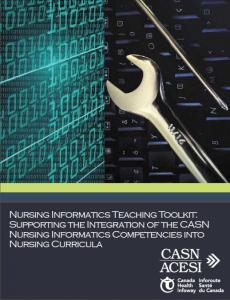 Download : Nursing Informatics Teaching Toolkit
Presentation 1  – Providing Evidence-Informed Nursing Care: Gathering, Assessing and Using Information & Knowledge
Presentation 2 – Using Technology in Nursing Practice: Complying with Policy and Optimizing Practice.
Part 1  – Complying with Policy
Part 2 – Optimizing Practice
Presentation 3 – Information and Communication Technologies in Nursing: Types, Uses & Benefits
If you use one of the presentations, please reference it with a citation, (see example provided below).
Canadian Association of Schools of Nursing. (2013). Nursing informatics teaching toolkit: Supporting the integration of the CASN nursing informatics competencies into undergraduate nursing curricula. Ottawa: Author.