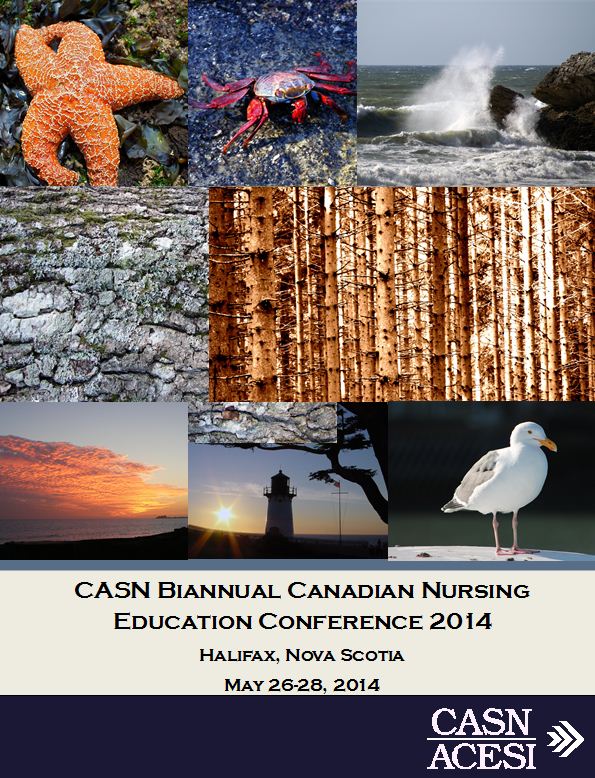 Early Bird Deadline: April 4, 2014
Event Dates: May 26-28, 2014
Location: Westin Nova Scotian, Halifax, Nova Scotia
Program Highlights:
Opening keynote address from Reverend Tom Keighley.
A debate looking at the concept of incorporating a residency-style program, post graduation.
Panel and symposia sessions focused on the hottest topics in nursing education today.
Evening networking events.
Program Overview
Monday May 26th, 2014
1830hrs – 2000hrs Opening Ceremonies (and cocktail hour)
Tuesday May 27th, 2014
0730hrs – 0830hrs Breakfast
0830hrs – 1630hrs Conference
1800hrs – 2000hrs Networking event
Wednesday May 28th, 2014
0730hrs – 0830hrs Breakfast
0830hrs – 1630hrs Conference
1630hrs Wrap-up/adjournment
Keynote Sessions 
Opening Keynote Address
The Reverend Tom Keighley has enjoyed a distinguished career in nursing, which has included work in Europe, North, Central and Latin America, the Middle East, India, Pakistan, Malawi and Singapore. Reverend Keighley is currently focused on facilitating the reform of nurse education in Montenegro and the nurse Bridging Programmes in Romania.  Between 1989 and 2000, he represented the UK Practicing Profession of Nursing on the European Union's (EU) Advisory Committee on Training of Nurses, and was awarded a Fellowship from the Royal College of Nursing (RCN) in 2004 in recognition of his contributions to international development and the development of leadership in the profession.  With links to Kings College London, the London South Bank University, the University of Sheffield and the University of Toronto, Reverend Keighley is involved with a variety of initiatives, including the establishment of the Ethics Committee and Forum at the RCN, the founding of the Institute of Nursing at Leeds University, and the creation of a standardized review process for the nurse education component of the EU Accession work.
Reverend Keighley is involved in publishing and communication in various ways, including journal editing, publishing (over 170 papers) and speaking.  His own portfolio of research involves psychiatric and community nursing in the fields of; practice, research, teaching and management.
Debate
Nursing leaders from academia, practice and recent graduates will debate the pros and cons of incorporating a residency-style program into nursing, post graduation.
Exhibitors and Sponsors
The 2014 Canadian Nursing Education Conference will provide a national stage for your company to market and showcase its products, services and achievements to key decision makers and industry leaders. There are several exhibitor spaces available and a wide range of sponsorship packages. For more information on sponsoring please contact Andrea Pinsent-Martineau at 613-235-3150 ext 29, or at apinsent@casn.ca.
Networking Event
CASN will be hosting two networking events, a cocktail hour prior to the opening ceremonies on May 26th,  2014. As well as a "CASN Kitchen Party" on May 27th, 2014, featuring music and a little of that east coast charm. Come, meet, mingle and network with other nurse educators.
Abstracts
The call for abstracts is now closed, thank you for submitting.
Hotel
Westin Nova Scotian
A special rate of $149.00 CDN per night plus applicable taxes and fees has been negotiated with the Westin Nova Scotian for the duration of the conference. The negotiated rate is in effect until May 5th, 2014.
To take advantage of this exceptional room rate click on the link below to access the online group registration page.
https://www.starwoodmeeting.com/StarGroupsWeb/res?id=1402138187&key=137C4
Westin Nova Scotian
1181 Hollis St
Halifax, NS
B3H 2P6
Hotel Reservations: 1-888-627-8555