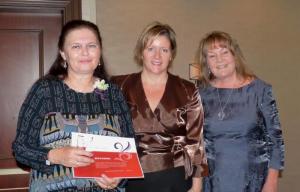 The Nursing Faculty E-Health Award was created to support a faculty member from a Canadian school of nursing who demonstrates exceptional leadership and commitment to e-Health in nursing education. This award is a component of the Canadian Association Schools of Nursing (CASN) and Canada Health Infoway's (Infoway) Clinicians-in-Training Initiative, aimed at improving the preparedness of graduates to work in a technology-enabled environment. CASN and Infoway are pleased to announce that the 2012 recipient of the E-Health Award is June Kaminski!
When surveying the field of nursing informatics in Canada, one name that will come up repeatedly is June Kaminski. June emerged as a leader for the inclusion of informatics/e-health in nursing curricula, long before there were calls for it. For the past 23 years June has served as the Program and Curriculum Coordiantor at Kwantlen Polytechnic University, where she integrated nursing informatics into the BSN program. Currently, she is developing a post-baccalaureate program delivered in a hybrid format (classroom and online), and includes the use of i-Pad applications at all levels.
June is a mentor, evidenced by her support of fellow Kwantlen faculty as informatics was integrated through the nursing curriculum. June has helped to develop online courses and e-health curriculum for various organizations, such as the Canadian Healthcare Association. June created an online classroom (at www.nursing-informatics.com), that offers tools that individuals in all areas of nursing across the globe can use to increase their capacity in the area of e-health.
June has published about her research in nursing informatics and education in various national/international publications; her dedication to the dissemination of knowledge about informatics is so great that she created the Canadian Journal of Nursing Informatics in 2006. Through her role as a leader, teacher, mentor, and advocate, June has made an immeasurable impact on e-health in nursing education.