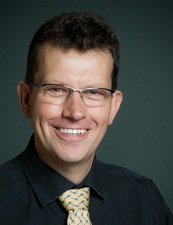 Dr. Bernard Garrett is the 2014 CASN Pat Griffin Scholar Award winner for 2014!

CASN is pleased to announce that the
2014 Pat Griffin Scholar Award winner is
Dr. Bernard Garrett
The winner of the 2014 Pat Griffin Scholar Award is Dr. Bernard Garrett. Dr. Garrett is a scholar with a passion and commitment to advancing new and innovative technologies in nursing education in Canada and abroad. He has a strong record of commitment to educational research and scholarship, leadership and pedagogical innovation. His research program is built on scholarly inquiry into nursing education with a focus on the use of educational technologies, social media, and virtual and augmented reality in the support of clinical nursing skills and virtual reality in pain management.
Dr. Garrett's publication record in the area of educational scholarship and research is exemplary, with regular contributions of research and academic papers to internationally respected peer-reviewed journals. In his publications and blogs he contributes to the development of scientific thinking in nursing education, and pedagogic scholarship in teaching and learning.
Dr. Garrett will receive a $10,000 grant to promote his nursing education research through inquiry, mentorship, and dissemination.  Dr. Garrett's contributions to research in nursing education will be addressed when he provides the "Pat Griffin Annual Lecture" at the 2014 CASN Council meeting.
Congratulations Dr. Bernie Garrett!!