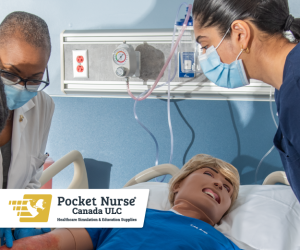 Furniture Options for Every Healthcare Program
Pocket Nurse® Canada ULC provides a wide range of furniture choices to healthcare education programs including new and refurbished hospital beds, exam and treatment tables, teaching headwalls, stretchers, custom curtains, medication carts, storage carts, tables, and chairs, and much more. Click here to explore our wide range of furniture options!
Headwalls Solutions to Suit Your Needs
As a leading provider of educational headwalls, Pocket Nurse Canada ULC features an extensive selection of configurations to suit nearly any space and budget. Sourced from leading manufacturers, our range of simulated functional, non-functional, private, semi-private, and mobile headwalls are ideal for both remodeling and new construction projects. A variety of accessories such as compressors, hoses, canisters, gas keys, and more are available to complement your headwall purchase.  Click here to explore our headwalls options!
Contact Stacey Haywood at our Ontario office to customize the optimal headwall package for your program and visit PocketNurse.com/International to see our complete lineup of furniture for healthcare education.
Nurse-Owned and Operated for 30+ Years
Nurse-owned and operated since 1992, Pocket Nurse® offers thousands of educational products for impactful simulation-based learning, curated by our team of Registered Nurses to serve the diverse needs of healthcare education programs in Canada and around the world.
We're proud to serve the Canadian market and its many healthcare education programs from our office in Ontario. For your convenience, Pocket Nurse® Canada ULC provides price quotes, orders, and invoices in Canadian dollars. Contact Stacey Haywood, International Business Development Manager, at shaywood@pocketnurse.com or visit PocketNurse.com/International to start shopping!
---
*The above article content is a paid external advertisement. CASN assumes no responsibility or liability for any errors or omissions in the ad and does not expressly endorse it.