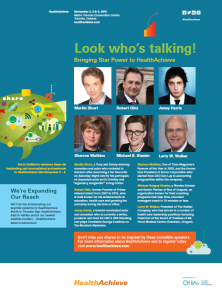 Each year in November, the Ontario Hospital Association hosts its annual signature event, HealthAchieve, in Toronto. HealthAchieve is considered one of the largest and most respected health care events of its kind in North America, and has been bringing health care and business leaders together for over 90 years. It's the perfect opportunity for feature leaders to learn , share and network with some of the best and brightest. HealthAchieve has long hosted A-list speakers, and this year's keynotes are no exception:
Sharing stories from his new book, comedian and actor Martin Short will explore his personal connection to health care during his late wife's battle with cancer.
"Hero of the High Seas" Captain Richard Phillips will speak at the Feature Session. Phillips offered himself as a hostage to protect his crew from a Somali hijacking and will inspire organizations to develop new ways to survive and thrive.
Enron's former VP Sherron Watkins will speak about the corporation's failed journey, from scandal to bankruptcy.